Florida Certified Cat Behaviorist & Veterinarian Team
Award-winning Harvard and Oxford-trained
We Have More Cat Owners Purring Than Anyone in Florida
Cats-exclusively and Over 25 Years of Scientifically Observing and Analyzing Your Cat's Gene-encoded Behavior From a Behavioral Cognitive, Ethological, and Feline Evolutionary Point of View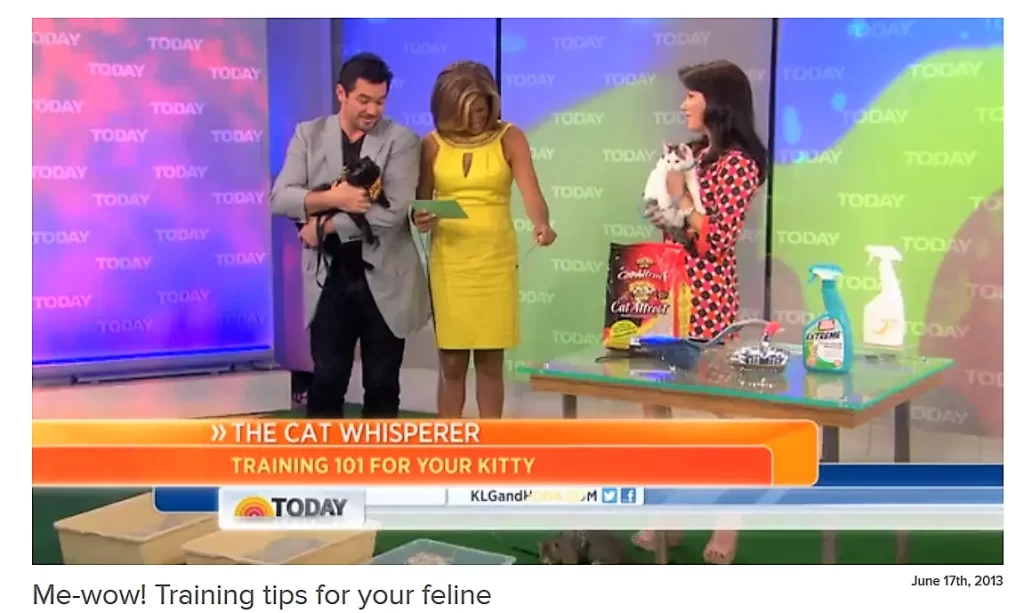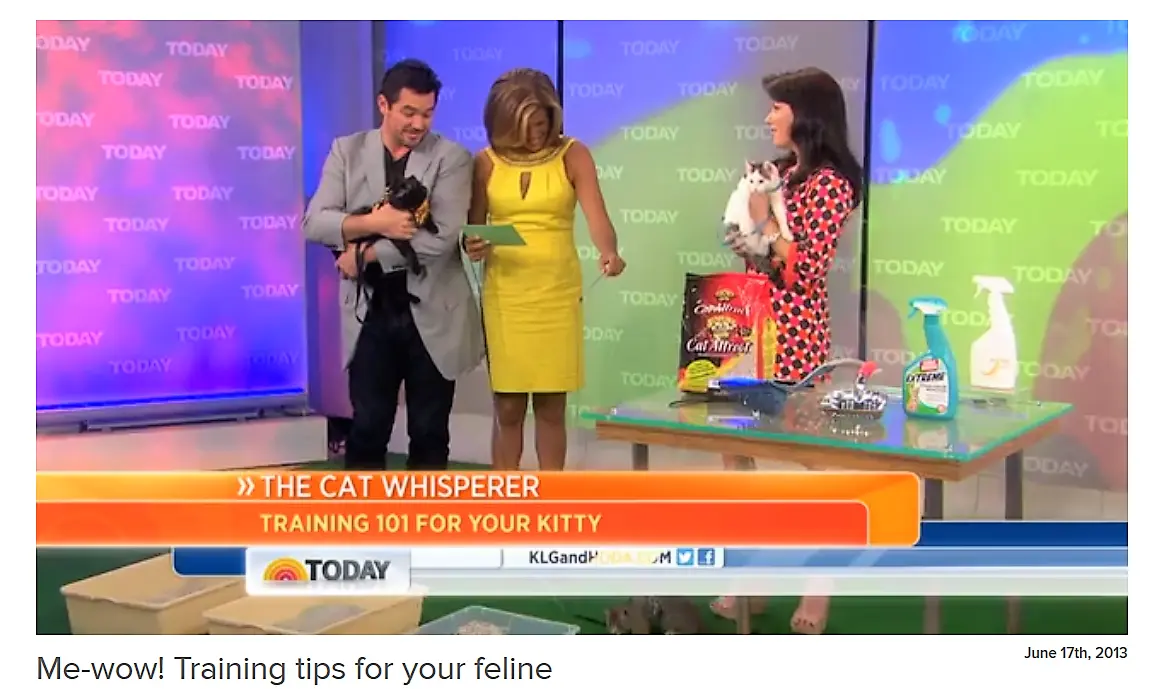 Founder of the "Cat Behaviorist" Specialty, Mieshelle's new cat behavior show on Discovery Channel Plus is the most watched cat behavior show in the world with over 125 million viewers internationally.
Keep Your Cat at Home Appointment: Schedule an In-person, Zoom, or Phone Appointment
Important update: we are currently scheduling Zoom, in-person, and phone appointments with the doctor and cat behaviorist through December 15th. Through November 30th, receive the study participation reduced fee for urination or defecation appointments. Scheduled Florida cat owners can also participate in Mieshelle's cat behavior show with Discovery Channel (the most watched cat behavior show in the world with over 125 million viewers).
Unlike "Cat Counselor" and other "Cat Behaviorist" services, our behavioral appointments are covered by most pet health insurance plans. You also do not need veterinary diagnostic tests beforehand to receive behavioral help for your cat. Cat behavior issues are best evaluated if your cat(s) is in its own environment. We do not recommend office visits for cat behavioral issues.
Mieshelle's cat behavior science book is used as text book curriculum to certify other cat behaviorists. She has also been the editor and writer cat expert for National Geographic on the 37 species of wildcats (including the domestic cat) and a hybrid cat expert for Florida Savannah and Bengal cat owners.
Florida Cat Behaviorist Team: Recipient of the "Gold Purr Award" and the "2020 Business Award for Exemplary Businesses and People in the Field of Animal Behavior".
Florida Cat Behaviorist Mieshelle Studied Animal Behavior at Oxford University, Harvard University, and The Royal School of Veterinary Studies (University of Edinburgh). Read more about her animal behavior study at Harvard University that has enabled her to help Florida cat owners think more scientifically about their cat's behavior (read more here). You can watch Mieshelle on her new show, My Cat From Hell, for Discovery Channel in Beijing China. With over 125 million viewers internationally, it's the most watched behavior show in the world.
"I 100% recommend Mieshelle!" Dr. Midori Higashi
View 350 Cat Behavior Testimonials. Our certified, licensed, and experienced cat behaviorist and veterinarian team provides comprehensive behavior care for Florida cat owners and veterinarians who require specialized behavior care for their cats.
Specializing in Cat Urination, Defecation, Marking, Aggression, and Vocalization Behavioral Issues. We Apply the Sciences of Gene-encoded Behavior, Animal Psychology, Biology, Physiology, and Feline Learning and Memory to Effectively Correct Your Cat's Behavior Long-term.
Florida Cat Behaviorist Testimonials
"It took years to find help for my cat's urination and marking issue. He had been through every conceivable treatment (and some which had significant side effects) before working with The Cat Behavior Clinic. After years of suffering we finally found appropriate help for our kitty and all with one phone call. Thank you to The Cat Behavior Clinic. You were our last resort. You clearly know cats and are advocates for their behavioral happiness (and the owners too!)". Nancy I. Florida (read 350 more testimonials here).
Award-winning International Cat Behavior Science Author Acclaimed by the New York Times and Published in 4 Languages
Mieshelle is the cat behavior science author of award-winning New York Times acclaimed scholarly-cited cat behavior book published in 4 languages (Random House Publishing). Her book is currently the main text book curriculum used by certifying organizations to certify other cat behaviorists. She is also the long time resident cat behaviorist and featured writer for Modern Cat Magazine. You can find Mieshelle's cat behavior articles, interviews and television appearances nationally and internationally here: National Geographic, The Today Show, Hallmark Channel's Home & Family Show, The New York Times, Nat Geo WILD, Animal Planet, NBC Dateline, MTV, Boston Globe, New York Post, Animal Rescue Site, Free Kibble Kat, Salon.com, Martha Stewart Radio, Whiskas, USA Today, Real Simple Magazine, Cat Fancy Magazine, Modern Cat Magazine, Feline Wellness Magazine, Advisory Council Pet360.com, This Wild Life, Divine Cat, Arm & Hammer, The Cat Channel, Pets Magazine, The Circle, Lifehacker, Catster, New Republic, The Sunrise Show,Yahoo.com, Herald Sun, Toronto Star, and Globe and Mail.
What's New with Wildcat Hybrid Expert Mieshelle and National Geographic
Noted wildcat hybrid expert, Mieshelle is a long time cat behavior expert for National Geographic on the 37 species of wildcats (this includes the domestic cat) and their numerous cat documentaries, TV Shows, and published works. You can watch her most recent Nat GeoWILD Show, Animals Doing Things with Howie Mandel.
Cat Urination, Vertical Spraying, Excessive Vocalization, and Aggression Issues are Solvable with a Holistic Behavioral Approach Including Behavioral Cognitive, Ethological and a Feline Evolutionary Biology Point of View.
World-renowned Innovators of the Cat Behaviorist Specialty
Zoom or Phone Consultations with Dr. Jim Shultz and Oxford-trained Certified Cat Behaviorist Mieshelle Nagelschneider. They are the founders of the "Cat Behaviorist" specialty and the first cat-only behavior practice serving Florida cat owners (and the entire United States). To date, cats are very underserved when it comes to behavior help and there are still only a handful of cats exclusively behavior services in the United States.
The Cat Behavior Clinic goes beyond the obvious behavior strategies to change a cat's behavior and offers complete and holistic behavior plans that apply training modalities that are based on your cat's feline evolutionary biology. Urination, defecation, urine spray-marking and aggression are the most common issues the clinic addresses.
Florida Cat Behavior Consulting: Schedule Your Cat's Feline Behavior Wellness Program
Mieshelle performs in-person and remote consultations for the entire State of Florida (Miami, Tampa, Orlando, to Jacksonville and surrounding areas). Mieshelle also conducts remote consults in over 30 countries. Our veterinarians provide vet-to-vet remote consultations. Please visit our clinic home page to learn more.
Educating Veterinarians How To Help Their Clients
Mieshelle lectures at the international level at education conventions for veterinarians, the Humane Society, and SPCA from Australia to the Philippines on common feline behavior issues. She recently lectured to a team of 24 biologists in Costa Rica on the natural behaviors of the 6 wildcats that inhabit the region – Ocelot, Margay, Jaguar, Jaguarundi, Puma and Oncilla (Tigrillo).
Florida Cat Behaviorist Testimonials
Cat Behavior Testimonial: Thanks to your cat behaviorist, we now have a urine-free cat family just like she said we would. Our home no longer smells like cat urine and the added bonus is that our cats are so much happier. The information provided is no where on the internet. The consultation program was very worth our time and investment and we feel so lucky to have worked with Mieshelle. Regards, The Taylor Cat Family, Miami, Florida
Florida Cat Behavior Review: Well, I can't believe it took just 3 days, but it was that easy. We DID NOT have to add extra litter boxes either. Mieshelle is brilliant and saw the problems right away. It's week 7 and not one accident outside the box. Claudine has begun playing again with her toys and she actually sits next to Augustus now. This is unheard of and I can't thank you enough. All the best, One grateful and enlightened cat owner. Paula S. Orlando, Florida
Florida Cat Behavior Review: I considered myself a very savvy cat owner having owned multiple cats my entire life, but I have learned so much from Mieshelle, your cat behaviorist. When we rescued the feral cats from our Florida golf course, we had no idea what we were in for. The urine almost ruined our home and the cats fighting almost ended our marriage. Mieshelle became the light in the very small world of cat behavior knowledge available to cat owners. We have recommended your practice to our Florida veterinarian and we will contact you after we return from our vacation to schedule our last call. Thank you for all that you do. Mary S. – Tampa, Florida
http://www.floridahumanesociety.org/
World-renowned Oxford-trained Cat Behaviorist Mieshelle Nagelschneider, The Cat Whisperer™️
Schedule an Appointment