Clinic Scheduling and Pricing | The Cat Behavior Clinic
Harvard and Oxford-trained, and founders of the "Cat Behaviorist" specialty, our award-winning, experienced and highly-skilled doctors and cat behaviorist have been in practice 25 years
On This Page You Can Schedule a Zoom Appointment with Our Cat-only Team Trained in Animal Psychology at Oxford University and Harvard University. 25 Years in Practice We Have More Cat Owners Purring Than Anyone in Over 30 Countries 350 Client Testimonials
Mieshelle is the host of 2-time Academy Emmy award-winning cat behavior television show "My Cat from Hell" on Discovery Plus Asia with over 125 million viewers around the world. Her scholarly cited cat behavior science book is published in 4 languages (Random House Publishing).
2023 Zoom Appointment Update: Through June 9th, urination and defecation cat families can become a part of our behavior study and receive the reduced 325.00 appointment fee and be scheduled within 7 days.
Photo: (Hallmark Channel) New York Times Acclaimed Cat Behavior Science Author and Recipient of the "Gold Purr Award" and the "2020 Business Award for Exemplary Businesses and People in the Field of Animal Behavior".
Scheduling a Virtual Cat Behavior Appointment Within 7 Days:
Important Update: we are scheduling Zoom and phone appointments with the doctor and cat behaviorist through June 30th.  Through June 9th, receive the study participation reduced fee for urination or defecation appointments.
All behavior issues are fully assessed by our doctors and cat behaviorist. We specialize in all cat behavior issues including every form of cat aggression, urination, defecation, spraying, fear/anxiety, and vocalization behavior issues. All behavior issues are thoroughly evaluated by our veterinary and behaviorist team. Read over 350 solved case studies and client testimonials.
Solving Cat Behavior Issues Around the World (photo): In Over 30 Countries We Help Cat Owners Learn More About Feline Gene-encoded Behavior, Feline Evolutionary Biology, and the Science Behind Solving Their Cat's Behavior Issue Long Term with Our Latest Scientific Behavior Research
Scheduling Step One: Choose Your Behavior Wellness Program
$450.00 Comprehensive Feline Cognition Behavior Wellness Consultation Program
Suitable for single cat or multiple-cat feline aggression issues (all forms), cat integration, anxiety or fear-related issues, vertical urine-marking, excessive vocalization or nighttime activity, pica, overgrooming, and complex urination or defecation issues.
Includes 4 hours (4 appointments) of appointment time by Zoom or phone during the 8 week program time. Extensions may be granted for specific cases.
During your first appointment you will receive an in-depth behavior analysis and an all-encompassing progressive and tailored behavior plan. Behavior plans include behavior strategies based on the most recent cat behavior scientific research studies conducted by our clinic and other board-certified veterinary behaviorists.
Ongoing weekly observation by our team and analysis and behavior plan progression during your scheduled follow-up appointments. Appointments are scheduled 7 days a week.


$325.00 Urination and Defecation Consultation Feline Cognition Behavior Wellness Program
Urination and/or defecation consults only (not vertical urine spray-marking) for single cat or multiple cats. Become a part of our study helping cats just like yours with urination or defecation issues and receive the reduced consult fee of 325.00 through June 9th. To be eligible, your cat(s) must be spayed/neutered. In lieu of Paypal, you are welcome to schedule by contacting the clinic at: 503-267-8888.
3 hours of consult time (or 3 appointments). The initial behavior appointment lasts approximately 1 to 1 1/2 hours. The remaining time we recommend using in 2 additional appointments during the 4 week program evaluation period.
All behavior cases are fully evaluated. You will receive a comprehensive behavior analysis and tailored behavior plan during the first appointment. Behavior plans include behavior strategies based on the most recent cat behavior scientific research studies including the clinic's 25 years of feline behavior data.
4 week program time includes ongoing weekly observation, analysis, and behavior plan progression recommendations during your scheduled follow-up appointments. Appointments are scheduled 7 days a week.


Contact the Clinic to Schedule or Use Paypal:
If not using Paypal, please contact the clinic to schedule and pay with credit card at 1-503-267-8888. Scheduling hours are 9:00 a.m. to 6:00 p.m. Pacific/9:00 a.m. to 9:00 p.m. Eastern 7 days a week. The clinic conducts consultations worldwide. Appointments are conducted 7 days a week from 9:00 a.m. to 6:00 p.m. Pacific time/12:00 to 9:00 p.m. Eastern time. Cancellation/rescheduling policy: a minimum of 72 hours notice is required regardless of when you scheduled.
Zoom Video Call FAQ'S
Photo: Actual Zoom Appointment in Beijing, China 2021. Mieshelle's "Emmy" Award-winning Show, My Cat From Hell, for Discovery Plus Channel has over 125 Million Viewers Internationally. Founder of The Cat Behavior Clinic, Cat Behaviorist Mieshelle Nagelschneider is the first and only cat behaviorist in China and in over 30 Countries.
How Do I check-in for my Zoom Appointment?:
The clinic will call you by phone at your scheduled appointment time and then move to Zoom video. A link will be emailed to you ahead of time to enter the Zoom waiting room. If you are an international client outside of the U.S. we will meet you in the Zoom room at your appointment time.
Do I need a Zoom account to do a video visit?
No. Just download the free app on your phone or computer ahead of time.
In-Person Consultations
In-person appointments are 1200.00 and are conducted in your home by Mieshelle and/or our veterinarians who also performs consultations vet-to-vet remotely or in-person in select states where they are licensed. Mieshelle has traveled to Japan, Australia, and the Philippines for in-person consultations! Please contact the clinic directly if you would like to learn more about in-person appointments.
Is Your Cat a Good Candidate for a Behavior Consultation?
Probably, but this is our clinic efficacy guarantee policy: we know you are loving cat owners wanting the best for your cats and we are here to offer our guidance and expertise. If after the clinic evaluates your completed feline behavior history form it's determined a consultation would not be appropriate or effective for your cat(s), the clinic will hold a consultation at no charge to discuss the best course of action for your cat(s).
Mieshelle is a New York Times Acclaimed Cat Behavior Science Author Published in 4 Languages (Random House Publishing w/co-writer Cameron Powell and National Geographic).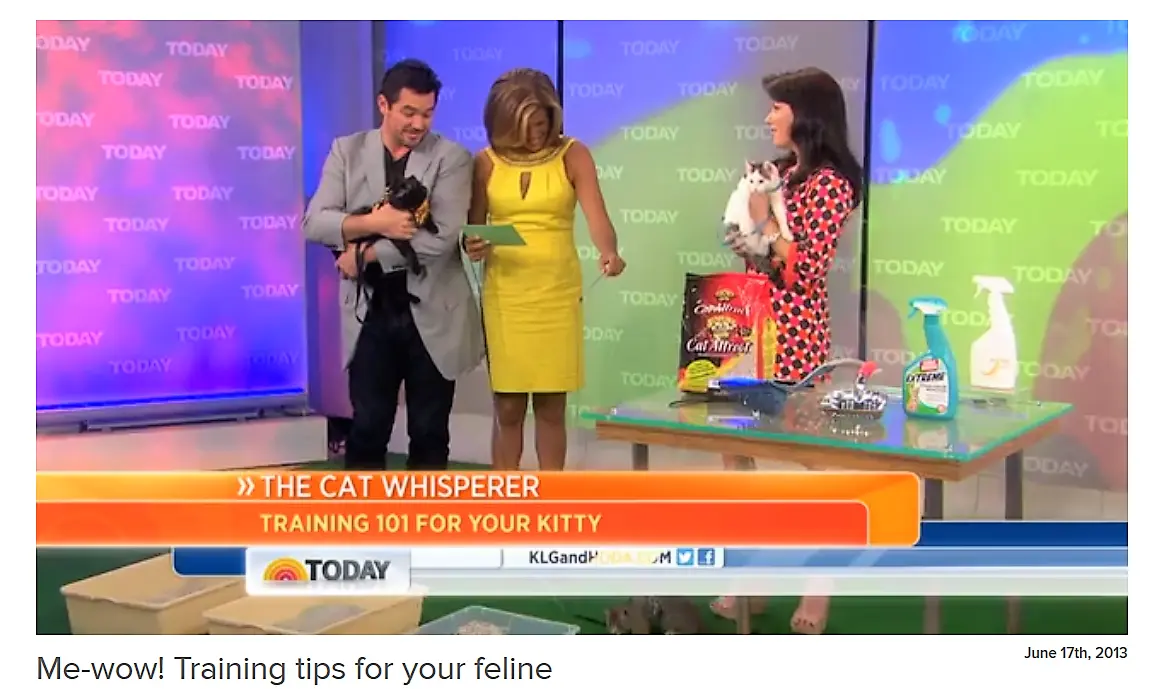 Gene-encoded Cat Behavior: It Matters For Lasting Success for Cat Behavior Issues
To achieve lasting results, it's necessary to work with an experienced cat behaviorist, but most importantly, one with formal study in animal psychology and behavior. The ability to apply the sciences of genetics, animal psychology, biology, physiology, and feline learning and memory is needed to effectively correct a cat's behavior. The clinic solves cat behavior issues by scientifically observing and analyzing your cat's behavior. As pioneers of the "Cat Behaviorist" specialty and the first cat-only behavior practice in the United States we have helped thousands of cat owners in over 30 countries by phone, video, or in-person.
What's the Latest with Mieshelle and National Geographic?
37 Wildcat Species Expert for National Geographic: As an award-winning cat behavior science author published by Random House, she also works behind the scenes as the cat behavior expert for numerous National Geographic published works on the 37 species of wildcats, tigers, and every breed of the domestic house cat as well as cat and tiger television documentaries. Watch Mieshelle on National Geographic's Animals Doing Things with Howie Mandel as their cat behaviorist and other cat behavior documentaries by Nat Geo Wild.
The Science Behind Successfully Solving Cat Behavior Issues
Our cat behavior program provides a comprehensive treatment approach incorporating a behavioral cognitive, ethological, and feline evolutionary point of view. Understanding how behavior is actually measured and how scientific studies are conducted and reported is crucial before taking the steps involved in designing and carrying out a behavior plan to change a cat's behavior. The benefits of working with a cat behaviorist who really understands the latest in feline behavior can literally last you for years. (Like driving lessons, typing lessons, or a parenting class). A consultation with Mieshelle is nothing less than an investment towards a happier and problem-free cat — and toward your sanity. The advice, knowledge, and tools you'll get during and after your consultation, as well as the traps (and products) to avoid, will repay you many times over.
Mieshelle's Internationally Published Books and National Geographic Works
Award-winning, Random House Publishing, The Cat Whisperer. Acclaimed New York Times Feline Science Author and the First Scholarly-cited Cat Behavior Book for Cat Owners (with co-writer Cameron Powell).
"The reason people are so mesmerized by house cats is because they are truly miniature versions of lions, tigers, and leopards. In her book The Cat Whisperer, Mieshelle Nagelschneider explains the behavior of the house cat in an unprecedented and most accessible way, offering unique insight into the often misunderstood companion animal that is as wild as we have become civilized."—Jordan Carlton Schaul, Ph.D., contributing editor, National Geographic, and curator, Orange County Zoo
Mieshelle's book, The Cat Whisperer, is also published in German and Polish (Arkana Publishing and Random House).
Mieshelle's cat behavior science book, The Cat Whisperer, is also published in Hungarian (Jaffa Publishing).
Latest for National Geographic: With the help of veterinarian Dr. Gary Weitzman and cat behaviorist Mieshelle Nagelschneider, kids will learn how to understand their cat's behavior.
Mieshelle's International Arm & Hammer Litter Cat Behavior Media Tour – Parent Magazine Live in Toronto, Canada – Preventing Feline Behavior Issues. Mieshelle goes beyond the obvious behavior strategies and facts during the behavior consultation program with comprehensive behavior plans based on scientific research behavior studies of felids, your cat's feline evolutionary biology, innate learning styles and memory, and current external and internal factors affecting your cat. Our outstanding 95% clinic success rate.
Please familiarize yourself with our Clinic Policies including cancellation, rescheduling and refund policies here.
In-home local consultations are accepted on a case by case basis by Dr. Jim Shultz DVM or Mieshelle Nagelschneider and rates are determined by your location and nature of behavior issue, but normally begin at $1200.00 (plus flight and hotel accommodations if you are out of state). Our veterinarians perform in-home consults locally only. The majority of our clients schedule phone or video consultations with Mieshelle. Follow-up calls are $125.00 for a 30 minute call within 3 months of your last appointment.
The value you receive goes well beyond the cat issue you have today. Because we truly educate our clients on how cats act and behave — and especially how their behavior is totally different from the dogs that most people unconsciously use as models — our clients are able to more knowledgeably raise and enjoy cats for as long as they have cats.
World-renowned Oxford-trained Cat Behaviorist Mieshelle Nagelschneider, The Cat Whisperer™️
Schedule an Appointment